Fairy Inspirations Personal Checks
Fairy Inspirations Checks Invite You to Imagine, Dream, Wonder and Believe
Fairies are known to grant wishes only to those who believe. Now, celebrate your winged friends with these fairy checks from Bradford Exchange Checks®. Four enchanting designs feature unique portraits and line drawings of fairies from the mind of acclaimed fantasy artist Amy Brown, each accompanied by an inspiration - "Imagine", "Dream", "Wonder" and "Believe".
Plus, you'll find these fairy personal checks are just as practical as they are alluring. Brought to you exclusively by Bradford Exchange Checks, they're expertly re-created with premium-quality check printing. Don't miss this opportunity to let your imagination take flight. Get your fairy checks as soon as possible! Order now!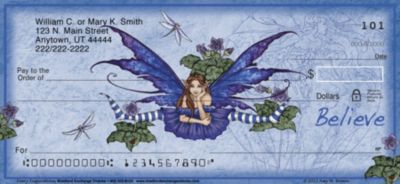 Fairy Inspirations Checkbook Cover
Features
Exclusive checkbook cover designs only available here
Slip-in personal checks pocket
Clear duplicate check divider
Extra pocket to hold cash and receipts
Premium nylon thread stitched construction
Genuine Leather Fairy Inspirations Checkbook Cover Lets Your Imagination Take Flight
What would you do if you encountered a fairy in repose? Now, enjoy the company of a winged friend wherever you go with this genuine leather fairy checkbook cover. Custom designed to coordinate with our Fairy Inspirations personal check designs, this enchanting checkbook cover design features a full-color portrait of a fairy delicately resting on a leaf by acclaimed fantasy artist Amy Brown. "Imagine" in burgundy text pops against the neutral background and above the sweeping accent strip. A line drawing of a fairy on the background adds subtle dimension.
This exclusive Amy Brown checkbook cover is handcrafted of genuine, full-grain leather. High-quality features include premium nylon thread stitching, fabric lining, a clear duplicate check divider, slip-in personal check pocket, and a second pocket to hold cash or receipts.
Don't wait to celebrate the beautiful mysteries of the forest - get your fairy checkbook cover from Bradford Exchange Checks®! Order now!
©2012 Amy M. Brown