Sue Miller March 2008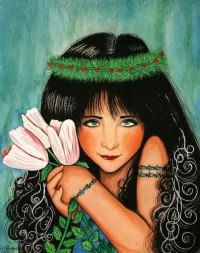 The Artist behind the Art



Sue Miller was raised Susan Pacheco in South Dartmouth Massachusetts. She began painting at a young age and was inspired by her artist father Tony Pacheco. She graduated from Dartmouth High School and attended South Eastern Massachusetts University (now called University of Massachusetts), where she studied fine arts. Sue also had private art lessons with legendary painters Milton Healey and Rachel Farrington and Margret La-shoot.



Sue enjoyed a career of 20 years as a professional graphic artist. She worked in advertising agencies, art departments, newspaper art departments, department store art departments etc. During these years as a graphic artist, Sue was able to express her creativity on the job.



She considers herself lucky to have been able to draw and design daily for so many years.






Today Sue runs her own business called The Magic Palette Art Studio where she has taught thousands of students to draw and paint for the past 15 years.



In addition to art lessons that she teaches out of her home studio, Sue is almost always involving her creativity to paint in some capacity every day. For Sue this can mean the preparation involved in beginning a new project or putting a brush to canvas. She has been known to be working on two paintings at one time. A day without painting in some faculty is like a day without water for Sue.



Sue's work has been published in countless magazines and E-zines. She has also been blessed to with Authors to provide the cover art for their children's books.



A visit to Sue's home or online gallery will have you immediately drawn to the diversity of her art. Her paintings include a variety of subjects from angels, fairies, elves, nature, wildlife, children and pets. You will also notice that Sue especially enjoys painting the seasons. There is a vast collection of art to cover every Holiday of the year. Sue's models of her paintings are often her art students and her nieces that help bring about the humanistic qualities that adorn her art.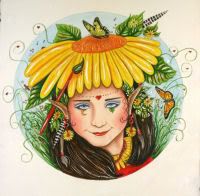 She resides in Northwestern New Jersey with her husband of 25 years, musician Vern Miller and their "baby" autumn their golden retriever. Their home has been quoted by many people and popular newspapers as "The house of art and music"




Sue's art has been features in the following magazines

Faerie magazine, Moon Shadows, The Aquarius, Skyline Arts and Entertainment Magazine, Mystic Pop, Pathways Magazine, The Writer's Post Journal, Inner Realm, Dream Weaver, Angels Magazine, Angel Times Magazine. Angel Yellow Pages, The Papoose, Celestopea Times E-zine, Susan Weed's Wise woman E-zine, Fantasy is Love E-zine, Empowerment for Women E-zine, Painters for Human Rights E-zine and more.



Sue currently holds licensing contracts for the following companies.

The Fairy Society

Heaven and Earth Designs

Tate and Company

Faerie Glen

Enchanted Tattoos

Fantasy Fabric Blocks

The Fantasy Tea Shop

Creative Imaging Licensing and Management

Scarlet Rose

The Fairy Court Creations

Costumesfairy.com



Sue's Art work has appeared in the following books.

500 Fairy Motifs by Myrea Pettit of the popular Fairies World

How to Draw and Paint Fairies by Linda Ravenscroft

Visions of Atlantis by Ellen Million

How to Draw and Paint Dragons by Vicky Visconte

How to Draw and Paint Fairyland by Linda Ravenscroft



In addition, Sue's art has graced the covers of children's books


Princess Melia by Malea

Sammy's Christmas Miracle by Anne Duhaine

Angels of the Cross by Anne Duhaine

And will also be appearing on the front cover of the forthcoming book entitled
Timothy Tom by Jeanne Jack



Plus Sue sold her art to Berkshire Originals for their Christmas card line.



Sue would like to welcome everyone to visit her vast gallery web site and fantasy art gift shop at http://suemillerart.com


Sue many be contacted also at 973-663-4120
To view more Enchanted Artists of the month visit: http://enchanted-designs.com